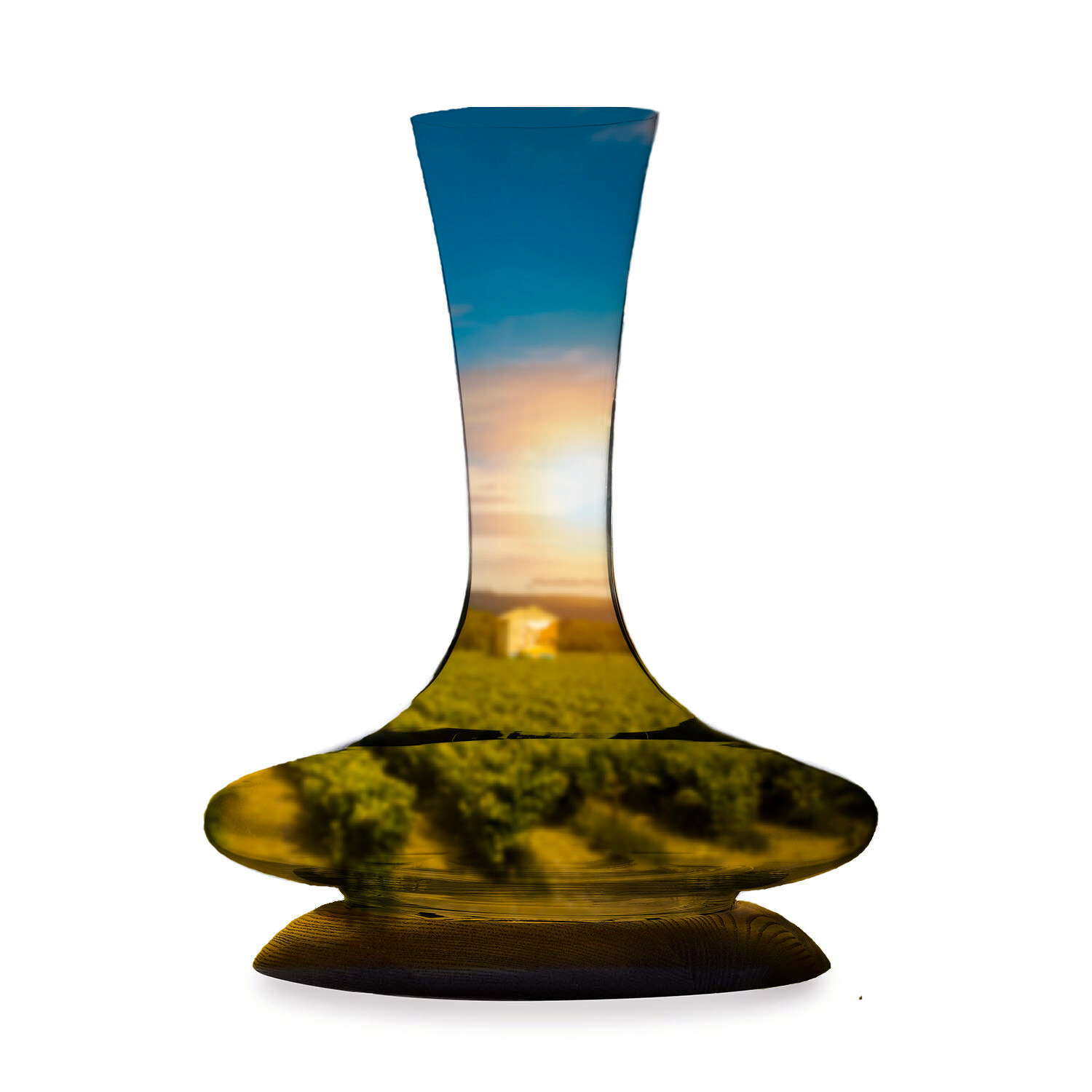 What does the New World taste like? Let's help you discover! Find yourself sipping in North America with Napa Valley or the Finger Lakes region. Or dive down south in Chile's Casablanca region or Vale dos Vinhedos in Brazil. Maybe you'd like to take a drink Down Under, or in Middle Earth, or down into southern Africa in South Africa.
"Our tour to four wineries will be either in a luxury tour coach, or in a luxury SUV depending on the size of the group going out that day.
You may choose to enjoy tastings or bottles of award winning wines. You will receive discounts for tastings and bottles of wine, at some of the wineries. Also, we are the only tour company that allows you to bring your own alcoholic (or nonalcoholic) beverages with you on the bus.
At one of the wineries we will have a picnic, outside next to the grape vines or inside depending on the weather. The picnic is served on linens, includes a personal charquterie board. This includes French bread, gourmet cheeses, hard salami, olive oil with balsamic vinegar, grapes, nuts and chocolates, for each individual person on the tour.
At one of the award winning wineries we will be touring the production facility and barrel room. There we will discuss the wine making process and what it takes to make a cluster of grapes into an award winning bottle of wine."
Essential California Wine Country by Rail
From Paso Robles to Napa to San Francisco (or reversed).
Discover the best of California's wine country on this scenic train journey to Paso Robles, San Francisco, and Napa and Sonoma Valleys. Start with two nights relaxing and wine tasting among the sprawling vineyards of Paso Robles before boarding the train to San Francisco, where you will have plenty of sightseeing opportunities with your two nights in the city. Then, enjoy a sightseeing tour of both Napa and Sonoma Valleys to complete this wine-lover's dream trip!
*Sightseeing winery tour of Paso Robles *Hop-on, hop-off sightseeing tour of San Francisco *Sightseeing cruise of San Francisco Bay *Sightseeing tour of Napa and Sonoma Valley
Price includes: *One-way Coach accommodations from Paso Robles to San Francisco (or reversed) on the Coast Starlight *5 nights' hotel accommodations *1 meal (1 lunch)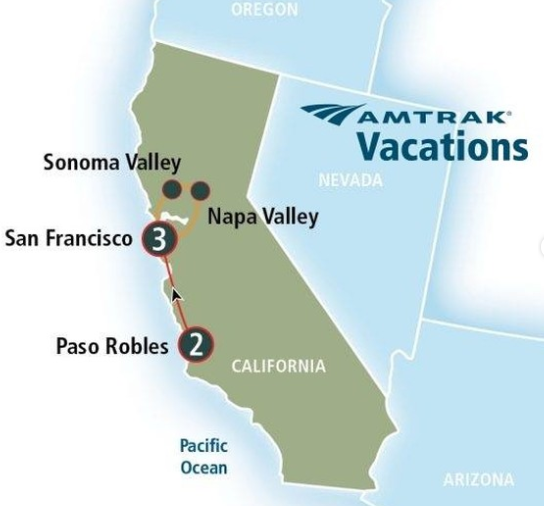 Roll through Northern California's famous wine country on the renowned Napa Valley Wine Train. Pass charming towns like Rutherford and St. Helena, and soak up the scenery of rolling hills, vineyards, and estates through large picture windows on the trip. Explore the restored vintage train cars, and then take a seat for a gourmet lunch or dinner freshly prepared by the train's acclaimed on-board restaurant.
Travel aboard the famous Napa Valley Wine Train for a unique Napa dining experience.
Ride a restored antique train through gorgeous Napa Valley.
Admire views of rolling vineyards on your round-trip ride to St. Helena.
Enjoy a freshly prepared gourmet meal and dessert.
Explore the train's multiple cars and visit the kitchen to see the chefs in action.
Benefit from a private half-day tour of the Paso Robles wine country that highlights top wineries in this sunny region of southern California. Your guide takes you to three or four boutique wineries for wine tastings that include a variety of white, red, and sparkling wines. Customize the itinerary to your interests and skip the hassle of driving yourself for a relaxing wine tour in Paso Robles.
Get in touch to learn about wine tours by SUV or limousine in Paso Robles.
Enjoy a day of wine tasting in the world-famous Finger Lakes region as you tour the vineyards surrounding scenic Lake Keuka. Take time to enjoy tastings and purchase new bottles for your collection. Kick back with friends or family, and let your guide do the designated driving. Choose a half-day if your schedule is full, or select a full day tour including a gourmet lunch at Bully Hill Vineyards.
Enjoy a day out in New York wine country with your small group.
Taste a variety of premium Finger Lakes regional wines.
Choose from half-day or full-day options, based on your schedule.
Full day tour includes lunch at Bully Hill Vineyards, with stunning views of Lake Keuka.
Experience the sites and wines of the Pacific Northwest in a unique way on a personal helicopter tour. With this package, visit two hand-picked vineyards for a tasting of a variety of wines, including some award winners. Travel in style to each winery aboard the helicopter enjoying the picturesque views from above, and stopping for an included lunch.
Views of the Pacific Northwest from above in a helicopter
Visit three local wineries for a tasting
A personal tour for a more intimate experience (This tour/activity will have a maximum of 4 travelers)
Includes wine tastings, lunch, and snacks
Join-In Wine Tours, Santa Fe, NM

"Enjoy a relaxing day, making new friends with a well-informed guide. During this fun and informative tour, you will learn about the local history. Our door-to-door service & our delicious and hearty lunch & yummy snacks are arranged and served at one of the wineries. Wine tasting is a fun way to experience wines that you have never tried before. Each winery is unique. Ideal for couples, solo travelers and small groups."

Wine & Shine Tour, from Branson to Ozarks, MO

Taste the best wines and spirits, while taking in the beauty the Ozarks has to offer. We start the tour in Ozark, MO and travel to Branson, MO to visit several wineries and distilleries. Most of the tour stops offer a unique experience that is only available to Tour the Ozarks guests.
Custom Concierge & Private Tour, Napa & Sonoma, CA

Enjoy a seamless, stress-free way to explore Napa and Sonoma—and leave the driving to someone else as you indulge in multiple wine tastings—on this private day trip from San Francisco. Meet your driver in the morning, hop aboard your luxury vehicle, and head into wine country. Upon arrival, visit multiple wineries, and enjoy in-depth tours and tastings (additional expense) before returning to the city.
Oeno Tour & Tasting, Oahu, HI

Oeno Winery is the only winery on Oahu and produces a range of red, white, Sangria, and dessert wines. On this tour, go behind-the-scenes on a guided winery tour and learn about the winemaking process and different grapes used. Then, enjoy an expert-led wine tasting, sample six different Oeno wines, and receive a bottle of wine (per couple) to take home with you.

5 Hour Wine Tour, Traverse City, MI

Known for its wineries and picturesque lake views, Old Mission Peninsula is a must-visit for wine lovers. By joining this winery tour, you can visit five of the Peninsula's wineries and enjoy round-trip transportation from Traverse City. That way, everyone in your group can indulge in wine and enjoy the scenery without worrying about driving.

Taste of Fredericksburg, TX

Venture into Texas Hill Country with a local guide. Your escort is not only an expert oenophile, but a storyteller who shares history and insight about the region. After two tastings at local wineries (where you'll also take a behind-the-scenes tour of the production facilities), spend time in the charming town of Fredericksburg. Have lunch, browse the shops, or experience additional wine tastings.

Tour and Taste Okanagan's Wine Country
Tour the Okanagan's beautiful wine country with a friendly, knowledgeable tour guide. Your wine tour will include complimentary pick up and drop off in a comfortable, air-conditioned vehicle. This tour operates daily and features some of our great wineries with beautiful views of vineyards and Okanagan Lake. All our tours are fun filled and informative and include a snack along the way and bottled water. This tour includes tastings at 5 wineries including Volcanic Hills, The Hatch, Off The Grid, Indigenous World, and Rollingdale. Please note we may substitute another amazing local winery based on availability. Sit back and enjoy your journey through the breathtaking Okanagan Valley as you stop and sip spectacular wines.
Kelowna Private Wine Route
For 4 to 6 people private wine tour. Select from a number of local wine routes to design a private tour that takes you to 4 wineries and to a restaurant of your choice. Flexible start times to accommodate your needs. Spacious Mercedes Sprinter van can transport up to 11 guests in comfort. The wine routes in Kelowna area include Lake Country, East Kelowna, Kelowna Lakeshore and West Kelowna. Talk to your tour operator about designing an itinerary and selecting a restaurant for the tour. Early bookings allow for better selection and reservation times.
Private Winery, Distillery, and Brewery Tour in Saanich by Luxury Vehicle
Saanich is dotted with a stellar selection of cider-house farms, craft breweries, distilleries, and vineyards. On this tour, spin through the British Columbia countryside with your guide and sample Saanich's beers, ciders, wines, and more. Choose the tour duration to suit your preferences—between three and six hours—and savor the flavors of British Columbia. Enjoy sweeping views over the volcanic hills and peaceful fjords, with round-trip travel from Victoria.
* Visit the breweries, cider farms, and vineyards of Saanich
* Sample a diverse range of beers, ciders, and wines with your guide
* Choice of 3-, 4-, 5-, or 6-hour tours
* Round-trip travel from centrally located Victoria hotels
Too often, Niagara-on-the-Lake is but a rushed stop-off for travelers visiting the nearby Niagara Falls. Give Ontario's premier wine region the time it deserves on this small-group full-day tour. Learn about the local wine scene from your guide, and enjoy tastings at four wineries, including an ice wine sample in the ice lounge of Peller Estates, as well as a 3-course lunch.
* Visit four diverse wineries in Niagara-on-the-Lake
* Stay warm at the Peller Icewine Lounge with a parka and gloves
* Comfortable round-trip transport and a 3-course lunch included
* Enjoy the personalized experience of a small-group tour
Featured Latin America Tours
5-Day Salta Luxury Trip (Argentina)
"Discover Salta and its surroundings from a whole new point of view! Experience the local flavors going on an exclusive wine tour to Cafayate. Discover the amazing cultures and natural landscapes as Purmamarca, here you will have the best views of the Seven Colours Hill; the Quebrada de Humahuaca, a World Heritage Site; and Iruya a small town with indigenous roots standing between mountains. The Salta Deluxe package includes 4 nights accommodation with breakfast in a 5-star hotel (3 nights in Salta & 1 in Iruya - 3 Star superior), and every transfers in/out and from/to the hotel."
São Roque Wine Route (Brazil)
"Escape from São Paulo going 1 hour away to the famous countryside town of São Roque on a full-day guided wine tour experiencing a truly fabulous day out. With first-rate gastronomy and wine production, the city is a reference known as "the Land of Wine". Learn about the winemaking process of vineyards and barrel rooms visiting popular wineries, and savor a fantastic lunch at the largest winery in town. (Lunch is not included). You'll begin with an informative sightseeing throughout São Roque that is one of the main tourist destinations in the state with beautiful landscapes, together with warm climate perfect for families. Then you'll visit three wineries getting to know about the art of wine, local history and current trends, all while making new friends. After having such a delightful day, finish off with a presentation and guided tour through the production part of the winery and taste of four fine wines in a fun and welcoming atmosphere."
3-Day Tour to Santiago, Valparaiso, and Viña del Mar (Chile)
"Our company offer this tour where the client will be learning many things about Chile such as the world of the wine beside this one the next step is the city tour where the people will find to much to see and history in this modern city time to walk as a local to explore in different way the capital. We go to Valparaiso the mean port of Chile and walking around is so amazing the customer will find the really life with the citizen as rainbow colorful mural very easy to take to much photos. The history is part of Valparaiso with several option to explore as well is absolutely wonderful. Viña del Mar is lovely city as resort so is worth knowing the Chilean love to go to spend on holiday as well. The sandybeach are beautiful with a lot things every one enjoy to much beside that the lovely building as decoration the casino for gambling people and to much thing to discover."
Vineyards, Wine Tasting and Pairing in San Miguel (Mexico)
"Visit two boutique vineyards near San Miguel de Allende on a half-day tour with wine and food tastings. At each winery you'll learn about their vineyards and wine production, then sample several wines paired with food. You can also tour the wine cellar and gardens, and check out locally produced olive oil and lavender."
* Taste wines at two local wineries in the scenic countryside
* Hear insightful commentary about the wine-making process
* Wine, food tastings, and bottled water included
* Ideal excursion for wine enthusiasts and novices alike
Private Tour at Querétaro Vineyards and Bernal Rock (Mexico)
If you are staying in Mexico City, don't miss the chance to visit a vineyard at Queretaro. A tour to learn about the elaboration of wine, where you will taste a delicious meal and, of course, an exquisite and unique wine. Moreover, you will visit Bernal Rock, which is one of the biggest monoliths in the world. We will leave in the morning from our meeting point, at Mexico City. During the way, we can watch the landscape of the center of Mexico. We will arrive directly at Bernal Rock, where you will have 45 minutes to admire the landscape and take pictures. Then, we will descend to Bernal, Magic Town. There, you will have free time to shop and walk around its beautiful streets. We will later go to Puerta del Lobo, have a tour through the cellars and crop fields, and be given an explanation about the process of making wine. During the tour we will taste two wines (Young and crianza). To finish up the afternoon, we will go to the restaurant and enjoy a delicious snack.
Private Tour of Ica Vineyard (Peru)
"Ica is home to a large number of wineries that produce some of the best wines and pisco in the country. On this occasion, a transportation service will pick you up from Paracas in the morning to carry you to Caravedo traditional winery, where one of the best pisco in the country is distilled. Then visit the prestigious Tacama winery that produces excellent wines and pisco. The renowned winery Queirolo will be the last point of your visit. There you will take a tour around the vineyard and learn about the distillation zone. Besides, you'll enjoy a delicious lunch, followed by a tasting of wines and pisco. Finally, return to Paracas."
Featured South Africa Tours
Western Cape Tour by Wine Tram
"South Africa's Western Cape is the wine-producing hub of the African continent. On this 9-hour tour from Cape Town, you will tour three vineyards in the Cape Winelands, stopping to taste estate wines at each as well as 'biltong' (cured meat) and cheese. Along the way, learn about the winemaking process from your guide and see the South African countryside. This tour includes stops in the towns of Stellenbosch, Franschhoek, and Paarl."
9-hour wine tasting tour from Cape Town
See the South African countryside en route to three of the Cape Winelands' most well-known wineries
Learn about the Huguenot and Afrikaner history of the area
Wine, cheese, and biltong tastings included
Driver and guide provide safe transportation and local insight
Hotel pickup and drop-off from Cape Town included
"The wine regions of Paarl, Franschoek, and Stellenbosch produce some of the finest wines in the Cape Winelands, surrounded by lush mountains and rolling vineyards. On this tour, enjoy a comprehensive introduction to South African wine as you visit four different wineries; sample a wide variety of red and white wines, including port brandy and sparkling wine; stop at a local restaurant for lunch; and taste regional specialties including cheese and chocolates."
9-hour wine tasting tour from Cape Town
Visit four Cape Winelands wineries in one day: expert-led wine tastings
Delicious a la carte lunch with wine at a local restaurant
Hassle-free hotel pickup and round-trip transport from Cape Town
Small group tour: intimate wine tasting experience